Television Interviews
Oct 13, 2013
New Book - Local elections in Belgium
---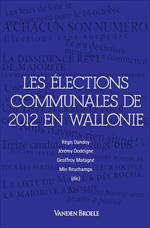 Les élections communales de 2012 en Wallonie
Edited by Régis Dandoy, Jérémy Dodeigne, Geoffroy Matagne and Min Reuchamps (2013) 
Category: Publications
Posted by: rdandoy

Dandoy Régis, Dodeigne Jérémy, Matagne Geoffroy, Reuchamps Min (eds.), Les élections communales de 2012 en Wallonie, Vanden Broele Publishers, Gent, 2013, 195 p. ISBN: 978-90-4960-941-2
Le 14 octobre 2012, les électeurs étaient appelés à désigner leurs mandataires communaux en Wallonie. Un processus en apparence familier pour les observateurs de la vie politique mais dont les dynamiques demeurent en réalité mal connues ...

En effet, le défi méthodologique est ici de taille : dans les 262 communes wallonnes, pas moins de 1012 listes se sont présentées, sur lesquelles figuraient quelques 19 675 candidats.

Ce livre présente la réponse à ce défi, apportée par un projet de recherche interuniversitaire dont l'objectif est d'analyser les données collectées pour chacune de ces 1012 listes. Les résultats permettent de répondre à plusieurs réponses pertinentes et fascinantes, telles que :
Les élections communales reflètent-elles des dynamiques nationales ou locales ?
Quelles sont les considérations stratégiques dans le choix du nom de la liste ?
L'étiquette des partis nationaux est-elle un atout électoral face aux électeurs ?
Quelles raisons motivent les partis à se présenter en alliance ?
Les candidats sont-ils des professionnels de la politique ou des citoyens amateurs de la politique locale ?
Les candidats d'ouverture améliorent-ils la performance électorale d'une liste ?
Les auteurs contribuent également à clarifier les singularités et les ressemblances du scrutin wallon avec les scrutins bruxellois, flamands et provinciaux. Cet ouvrage entend ainsi offrir un éclairage scientifique innovant et systématique sur les stratégies et les résultats des élections communales de 2012 en Wallonie.

Proposant des analyses scientifiques (qualitatives, quantitatives et mixtes) et des informations précises et comparables sur toutes les communes et toutes les listes électorales de Wallonie, cet ouvrage est vraiment unique en son genre.
More info on the website of Vanden Broele Publishers.
---