Research Networks
May 1, 2013
New Book - The Belgian Federalism
---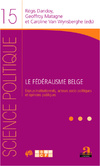 Le fédéralisme belge. Enjeux institutionnels, acteurs socio-politiques et opinions publiques
Edited by Régis Dandoy, Geoffroy Matagne and Caroline Van Wynsberghe (2013)


Category: Publications
Posted by: rdandoy
Dandoy Régis, Van Wynsberghe Caroline, Matagne Geoffroy (eds), Le fédéralisme belge. Enjeux institutionnels, acteurs socio-politiques et opinions publiques, Academia – L'Harmattan, Louvain-la-Neuve, 2013, 256 p. (ISBN : 978-2-8061-0099-3). 
Le Fédéréralisme belge. Enjeux institutionnels, acteurs socio-politiques et opinions publiques
Les structures institutionnelles de la Belgique ont connu des transformations profondes depuis les années 1960. Le mouvement de fédéralisation centrifuge se développe et, en 1993, le pays devient officiellement une fédération. Ce mouvement s'est depuis poursuivi et on discutera demain de réformes qui pourraient la conduire aux limites du confédéralisme. Cette évolution se déroule de façon progressive et assez pacifique. La Belgique étant un pays fondamentalement divisé, l'absence de violence dans le processus de réforme institutionnelle n'implique toutefois pas que le pays ait été politiquement paisible. Les systèmes socio-politiques du nord et du sud du pays évoluent de façon différente et souvent même contradictoire. Pour garantir leur coexistence au sein de l'État belge, il faut donc constamment procéder à des ajustements institutionnels.
Cet ouvrage propose des études consacrées aux enjeux institutionnels, aux acteurs socio-politiques, aux médias et aux opinions publiques au cours de la période précédant le nouveau compromis institutionnel de 2011. Elles sont autant de clés pour comprendre les dynamiques qui ont conduit à cette nouvelle étape du fédéralisme belge et les nouvelles perspectives d'évolution qui s'ouvrent aujourd'hui.
En outre, cet ouvrage part du constat de la position marginale de la réflexion politologique sur le fédéralisme belge. Contrairement à ce qui s'observe dans d'autres pays fédéraux et fortement régionalisés, la science politique en Belgique n'accorde que peu d'attention à cette thématique et les points de vue éclairés de ses spécialistes sont surtout révélés lors d'interventions médiatiques.
L'ouvrage réunit des contributions de Régis Dandoy (Université de Zürich), Geoffroy Matagne (ULg), Caroline Van Wynsberghe (UCL), Min Reuchamps (UCL), Jean-Benoît Pilet (ULB), Stefaan Fiers (KU Leuven), Kurt Vandaele (ETUI), Marc Hooghe (KU Leuven), Dave Sinardet (VUB), Jonas Lefevere (UA), André-Paul Frognier (UCL) et Lieven De Winter (UCL).
More info on the website of Academia L'Harmattan.
---